Why only North Korea may be ready for six-party talks
North Korea leader Kim Jong-il confirmed his readiness to rejoin six-party talks after a visit to China last week. But the US, Japan, and South Korea want to see key steps first.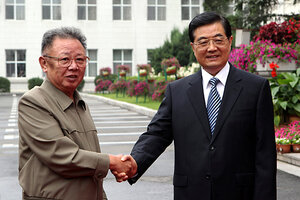 Ju Peng/Xinhua/AP
Beijing is back to herding cats in its oft-frustrated efforts to relaunch six-nation talks aimed at ending North Korea's nuclear program.
North Korean dictator Kim Jong-il pleased his Chinese hosts during a secretive visit here last week, confirming his readiness to rejoin the negotiations.
Mr. Kim said he "hoped for an early resumption" of the talks, according to a report by Xinhua, the official Chinese news agency, on Monday.

But now other key nations such as the United States, Japan, and South Korea are reluctant to negotiate. Russia is also a member of the six-party talks.

"It is too early to resume the six-party talks," Japanese Foreign Minister Katsuya Okada told China's nuclear envoy Wu Dawei on Tuesday, according to a ministry statement. Mr. Okada cited regional tensions following the sinking of a South Korean warship last March, killing 46 sailors, that international investigators have blamed on Pyongyang.
---