Timothy Geithner's call for currency appreciation rattles G20 finance officials
Japan called US Treasury Secretary Timothy Geithner 'unrealistic,' while India doubted he would have support among emerging economies at the G20 summit next month.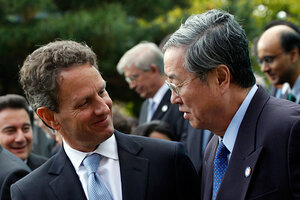 Jo Yong-Hak/AP
United States Treasury Secretary Timothy Geithner is running into a storm of criticism here over his demands for some of the world's other leading economies to raise the value of their currencies in order to increase the sale price of their exports on American markets.
Mr. Geithner laid down the gauntlet in what's seen as a highly contentious letter to other financial ministers and central bank governors meeting here Friday and Saturday in hopes of reaching a consensus on critical financial issues before next month's G20 summit in Seoul.
The letter was viewed as an attack on China, which has resisted intense American pressure to raise the value of the yuan and would prefer to sidestep the issue as much as possible at the G20 summit on Nov. 11-12, when President Obama and China's President Hu Jintao will have the chance to argue the issue with other heads of state.
Geithner calls for currency adjustment
Geithner, in his letter, not released by United States officials but revealed by aides of some of the recipients, warned bluntly of the dangers of seeking "competitive advantage by either weakening their currency or preventing appreciation of undervalued currency."
---