South Korea's G20 summit security test: protesters and a volatile North Korea
As Seoul prepares to host the G20 summit Nov. 11, it is keeping a close eye on activists' protest plans as well as the possibility that North Korea could provoke a well-timed incident.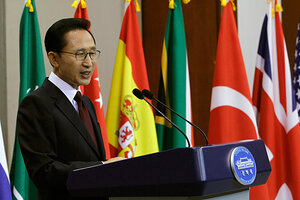 Jo Yong-hak/AP
Gunfire in the Yellow Sea rattled nerves here Wednesday one week before South Korea faces its greatest security challenge in years: how to protect 20 world leaders and their aides from protests here and the ever-present danger of North Korea provoking an incident to distract attention.
After a South Korean Navy vessel fired warning shots against a North Korean fishing boat in the Yellow Sea, President Lee Myung-bak offered assurances of the precautions for the "G20" global economic summit of the leaders of the 19 countries and the European Union.
The leaders, including President Obama, arrive here Nov. 10 for two days of meetings of the entire group as well as bilateral sessions intended to resolve such major questions as currency imbalances and the rich-poor gap among nations. By the time they leave two days later, they are expected to have agreed on an "action plan," however vaguely stated.
"I do not envision North Korea engaged in any inappropriate activities," Mr. Lee said at a press conference to which foreign correspondents were invited. But just in case, he added, "We're prepared for any contingency."
---