Union leader warns of violence during G20 protests in South Korea
As demonstration organizers today revealed plans for their G20 protests next week in South Korea, an unprecedented security force of 50,000 police geared up.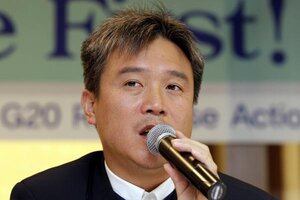 Lee Jin-man/AP Photo
The chief of South Korea's largest trade union professes a belief in nonviolence – but he offers no guarantees if police try to stop protests during next week's G20 summit of world leaders here.
"Excessive [police] force will result in violence that nobody wants," said Kim Young-hoon, president of the powerful Korean Confederation of Trade Unons, whose 600,000 members dominate motor vehicle plants, shipyards, and the government-owned national rail system.
Mr. Kim and other protest organizers today revealed details for their week-long campaign, while police patrols rehearsed elaborate plans to protect world leaders and more than 100 business tycoons from potentially violent protesters. Thousands are expected to converge Sunday in front of Seoul City Hall and challenge the police barriers that will form a four-mile-wide circle around the cavernous Convention and Exhibition Center where G20 leaders, including US President Barack Obama, will meet Nov. 11-12.
The sense of urgency when it comes to security is all the more pronounced in light of demonstrators' past successes in rampaging through central Seoul and other major cities here. In 2008, upwards of 100,000 people gathered nightly to denounce the import of American beef that they claimed carried the risk of "mad cow" disease.
This time, the police, many of them wearing newly issued uniforms with "G20" arm patches, believe they are capable of confining the protests to clearly marked areas in front of Seoul City Hall and Seoul station, scenes of historic and often unruly antigovernment protests. Some 50,000 police will be deployed next week, more than twice as many as during June's G20 summit in Toronto.
---