G20 host Seoul positions itself as rags-to-riches mediator
Seoul, which recently emerged from economic destitution, has placed development initiatives high on the G20 agenda.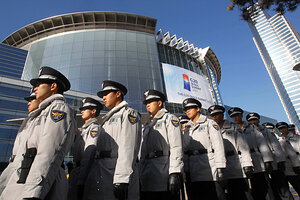 Bullit Marquez/AP
Seoul is hoping that the world's richest nations will remember some of the poorest at this week's Group of 20 Summit. The South Korean government has recommended an agenda that highlights economic growth in emerging countries, taking a page from its own rapid development with its policy suggestions.
The country's aggressive industrialization policies of the 1960s and '70s that emphasized exports helped create what Koreans call the "Miracle on the Han River." Between 1962 and 1989, the country experienced an average of 8 percent growth per year. Over the past 50 years, Korea's GDP per capita has risen from around $100 to just under $20,000 today.
The country's rather recent emergence from economic destitution has put it in an unusual position among today's advanced economies.
"Korea can play an important role [at the G20 Summit] as a country that still has a living memory of poverty, but that is rich enough to know what economic prosperity means," University of Cambridge economics professor Ha-joon Chang told a Seoul audience last month.
Using rags-to-riches narrative
South Korea has used its rags-to-riches success to launch a series of campaigns encouraging poor countries to adopt what is known as the Korean development model. Several countries in Africa, including Rwanda, have already consulted with Seoul about how they might follow in the country's footsteps.
---