Radiation exposure: How big is the threat in Japan?
Radiation exposure: Adding to the monumental losses after a Japanese earthquake and tsunami, problems at four nuclear reactors have residents near and far concerned about radiation exposure.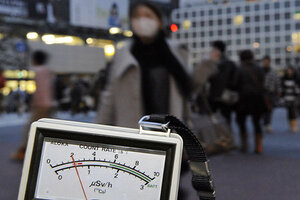 Kyodo News/AP
[Editors note: This story was updated 5.p.m EST March 16]
A new power line could restore cooling systems in Japan's tsunami-crippled nuclear power plant, said officials Thursday morning Japan time. This raises hopes of easing a crisis that has spawned dangerous radiation surges at the 40-year-old General Electric model Fukushima I Nuclear Power Station in Japan.
Increased levels of radiation in the atmosphere has prompted the US government to urge Americans living within a 50 mile radius to stay evacuate.
Gregory Jaczko, chairman of the Nuclear Regulatory Commission told the House Energy and Commerce Committee Wednesday that water used to cool spent fuel at the plant had evaporated and that radiation levels there are thought to be "extremely high."
With increased radiation being measured as far as 175 miles away in Tokyo, and some experts calling this the "worst nuclear accident since Chernobyl," residents and officials want to know about the risk of radiation exposure.
---