Japan nuclear crisis: Will it give nations pause?
Chernobyl and Three Mile Island did not stop nuclear power growth. Will the Japan nuclear crisis at Fukushima delay or end the 'nuclear renaissance'?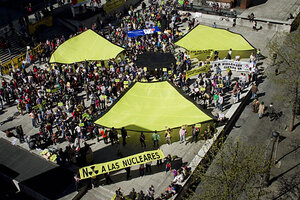 Arturo Rodriguez/AP
As media reports of workers heroically trying to head off multiple meltdowns in the smoking bowels of the stricken Fukushima Daiichi-I nuclear power plant played over scenes of thousands of evacuees fleeing radiation after Japan's powerful earthquake and tsunami, the global nuclear power industry was facing its own public relations meltdown.
Governments around the world are pushing the nuclear pause button: shutting plants for safety checks and reevaluating energy policy. Even staunch nuclear advocates on Capitol Hill are calling for a timeout on new US nuclear plants in order to learn lessons from Japan's tragedy. And American public support for nuclear development slid a precipitous 10 points – from 57 percent a week before the March 11 quake to 47 percent the week after.
Yet in spite of it all, nuclear industry observers say, Fukushima is unlikely to kill development of nuclear power in a world desperate for a clean – and unlimited – alternative to fossil fuel energy.
"[The Fukushima disaster] is going to slow things down, but not stop them," says Charles Forsberg, head of the nuclear fuel cycle project at the Massachusetts Institute of Technology, in Cambridge, Mass. That, he says, is because there are few alternatives to provide the electricity the world needs.
---