What Japanese think of PM Kan's response to the crisis
A new poll shows 58 percent of Japanese do not approve of the handling of the Japan nuclear crisis. Still, 58 percent do approve of overall disaster-victim support in northeast Japan.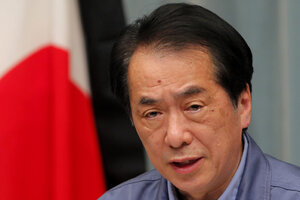 Itsuo Inouye/AP
Amid the destruction and nuclear crisis caused by the March 11 tsunami, there is a joke making the rounds in Japan: President Obama telephones Naoto Kan, Japan's prime minister… and asks to speak to his spokesman, Yukio Edano.
The joke reflects a widespread feeling that Prime Minister Kan has slipped into the background – he has made just three public addresses since the disaster – while Chief Cabinet Secretary Edano has become the government's public face in the midst of Japan's worst crisis since World War II.
Two weeks after an earthquake and tsunami laid waste to large parts of Japan's northeastern coastline, opinion is divided over Mr. Kan's handling of the relief effort and the nuclear emergency at Fukushima Daiichi power plant. According to a survey by Kyodo news agency this weekend, 58 percent of respondents said they did not approve of the government's handling of the nuclear plant crisis. Still, 58 percent said they did approve of the government's overall disaster-victim support in northeastern Japan.
But Koichi Nakano, a political science professor at Sophia University in Tokyo, says few people are looking to Kan for inspiration, preferring him to address myriad problems facing the country away from the media glare.
---