Pakistan: UN official's kidnapping highlights security threat
Gunmen abducted John Solecki, head of the UN refugee agency in Quetta, on his way to work Monday.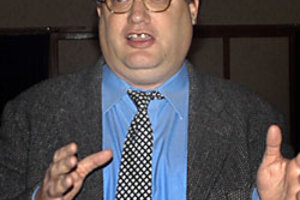 Arshad Butt/AP/FILE
An American UN official was kidnapped and his driver was shot dead by gunmen in southwestern Pakistan on Monday, in a further example of the deteriorating security situation in the country.
John Solecki, head of the UN refugee office in the city of Quetta, in Balochistan Province, was on his way to work with his driver, Syed Hashim, when their vehicle was intercepted, according to Pakistani officials.
Foreign Ministry officials denounced the abduction as a "dastardly terrorist act." The government has moved to seal the city with paramilitary forces, checking vehicles as they exit the city.
Officials say the motive behind the kidnapping remains unknown. So far no group has claimed responsibility, leaving analysts to speculate whether the kidnapping was orchestrated by religious militants, regional nationalist groups, or common criminals.
Quetta is the capital of Balochistan, which borders Afghanistan and Iran. Separatist groups in the province have been conducting a low-level insurgency for decades, though the Baloch groups are not known to target foreigners.
---