Karzai second-term goals: unity, stamping out corruption
Afghanistan President Karzai faces challenge of governing provinces that did not support him and where feelings of betrayal may run strong.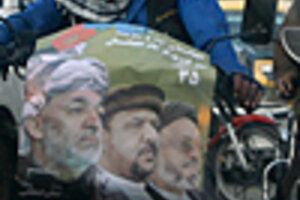 Musadeq Sadeq/AP
Afghan President Hamid Karzai celebrated his election victory and announced Tuesday twin objectives for his next five years in power: Stamp out corruption and unify the nation.
"We will continue to make every possible effort to wipe off this stain [of corruption] and prove to both the people of Afghanistan and to the international community that we will be sincere in our objectives," Mr. Karzai told reporters. "The second priority would be working for stability and peace … and strengthening a national unity."
Flanking Karzai at the podium were his deputies, Mohammed Qasim Fahim and Abdul Karim Khalili, two warlords representing the ethnic Tajik and Hazara minorities. Their presence emphasized his message of national unity after an election that splintered to a large degree along ethnic lines.
Karzai faces a situation where 10 of the nation's 34 provinces – those clustered in the north and dominated by ethnic minorities – voted against him in favor of Abdullah Abdullah. Just how to govern these regions is now a concern for both Karzai and for the coalition of political leaders who coalesced around Dr. Abdullah and say they feel betrayed by the process and the international community.
---