Koirala death deals new blow to fragile Nepal government
Former Prime Minister Girija Prasad Koirala's death could undermine the fragile Nepal government, which has until May 28 to write a new constitution. Mr. Koirala loomed large in Nepal's transition from monarchy to republic after a long civil war with Maoists.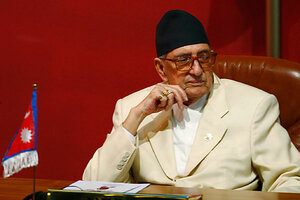 Buddhika Weerasinghe/Reuters/FILE
Amid the unhurried daily schedule of its prime minister – inaugurations, speeches, and the like – it wouldn't appear Nepal is struggling to lay a solid foundation for peace, restructure its state, and write a constitution.
But the tiny Himalayan nation wedged between China and India has only until May 28 to conclude these mammoth tasks. And progress has been scant since a special assembly was elected in April 2008, analysts say, the result of a political logjam between Maoists and rival parties that has overshadowed larger goals of concluding the peace process and holding a general election.
At the source of Nepal's political inertia are disgruntled Maoists. Led by former rebel chief and former Prime Minister Prachanda, the Maoists, who fought a deadly civil war with the government that ended in 2006, left the government last year after a dispute over firing the country's Army chief, and have subsequently paralyzed the government with strikes and blockades.
The death this weekend of former Prime Minister Girija Prasad Koirala, a key player in helping Nepal shift from a monarchy to a republic and the only political leader with the political capital to resolve differences, has added complications, raising concerns about a rightist resurgence that could further undermine a fragile peace process and throw Nepal into a new crisis, analysts say. If the May 28 deadline is not met, the elected assembly that doubles as a parliament, and the government it elected, could collapse.
---