Can Afghanistan President Karzai and Obama still work together?
Angry words lately between Afghanistan President Hamid Karzai and the administration of Barack Obama have raised questions about whether they can work together to stabilize the war torn country.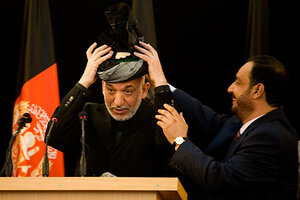 Dusan Vranic, Pool/AP
The relationship between Afghanistan President Hamid Karzai and President Barack Obama has come to resemble a loveless marriage succumbing to the strain of keeping up public appearances.
An imminent split seems unlikely. The US remains Afghanistan's chief international backer and the Obama administration's ambitious plan to transform the war-torn country needs Mr. Karzai if it's going to succeed.
But the angry words tossed between Kabul and Washington lately have amply demonstrated the strain between a US administration that says it is committed to political reform in Afghanistan and an Afghan leader empowered by an election widely thought to have been marred by fraud.
In one recent low point, President Hamid Karzai allegedly threatened to join the Taliban if the international community kept pressuring his administration. The US State Department shot back, saying it was considering disinviting Mr. Karzai from a meeting in Washington next month. Karzai spokesman Waheed Omer said last week that Karzai never made the comments about joining the Taliban, though the Associated Press and others stand by their reporting.
---