Times Square car bomb: Pakistan holds family of alleged attacker
Pakistani officials have detained members of Faisal Shahzad's family In the wake of what they say was Shahzad's failed attempt to detonate a Times Square car bomb. Intelligence officials in Pakistan say the suspect recently spent about four months in Peshawar, a city on the Afghanistan border close to militant training camps.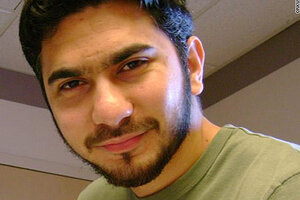 Orkut.com/AP
Peshawar and Lahore, Pakistan
Pakistani intelligence officials said that the wife and parents of the man arrested in New York Monday for allegedly trying to detonate a Times Square car bomb have been residing in Karachi, the country's commercial capital.
Officials who requested anonymity at Pakistan's Intelligence Bureau and Federal Investigation Authority said that Faisal Shahzad spent four to five months recently in or around Peshawar, a frontier city bordering the mountain hideouts and training camps of militant groups.
Mr. Shahzad's mother and some additional family members have been taken into protective custody, according to a separate Pakistani intelligence official. The family's Karachi home lies in the tough, lower-middle class neighborhood of North Nazimabad.
Mr. Shahzad lived in Shelton, Conn. with his family until they lost their house to foreclosure last year, according to media interviews with former neighbors. Dawn Television in Pakistan says the family flew from the US to Karachi in July 2009.
---