In Afghanistan election, a key test for fighting corruption
How election officials handle reports of fraud following Saturday's parliamentary Afghanistan election will go a long way in determining Afghans' respect for government and the rule of law.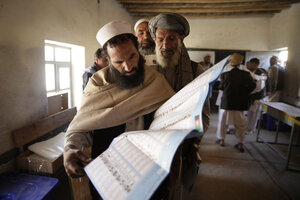 Saurabh Das/AP
As Afghans headed to the polls Saturday, some new safeguards against fraud had been put in place, but major challenges to the integrity of the vote remain.
Corruption and insecurity across the country empower government officials, armed strongmen, and candidates to bully and bribe election workers. And the commission assigned to handle any complaints has been weakened since last year's fraud-marred presidential election.
The danger that this election could be dominated by reports of fraud looms large over the international coalition's efforts to stabilize Afghanistan and to convince the population to resolve their divisions through democratic means. But whether dirty tricks weaken respect for the government and the rule of law in the long run will depend partly on how credibly reports of fraud are handled.
"I think the vote itself is not going to be very clean," says Martine van Bijlert, codirector of the Afghanistan Analysts Network in Kabul. "It's going to be very hard, but if you can deal with this mess in a way that will convince Afghan voters that fairness was restored that would be very important."
In previous elections, election officials and some in the international community attempted to gloss over the problems – with bad results.
"What you lose every time is, you lose [not just] the credibility of the vote but also those who are elected by the vote, those who count the vote, those who back it," says Ms. Van Bijlert.
Indeed, there are already signs among ordinary Afghans that they are losing faith in the process.
---