Afghanistan election investigators face threats, bribes
Corruption pressures test the integrity of rag-tag provincial committees as they sift through Afghanistan election complaints.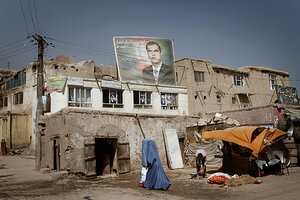 Musadeq Sadeq/AP
Seated around a room are an investigator, a legal scholar, and three judges. Their mission: Decide how to handle election complaints in Afghanistan's Kapisa province, and therefore help determine the outcome of the Afghanistan-wide parliamentary elections that took place over the weekend.
So far, the group has disqualified three candidates, some backed by powerful people, because the candidates lied about resigning from their government jobs. Now they are digging into investigating fraud attempts during Saturday's parliamentary elections, including accusations of police interference in the vote and poll workers lobbying for candidates.
A similar board sits in the 33 other Afghan provinces, and it is in these rooms that the battle to clean up the country's latest election mess will be fought hardest. The secrecy of their deliberations means much rides on their integrity, along with a strong dash of bravery given the dangers of their work.
IN PICTURES: Afghanistan election
"They are going to be under a lot of pressure. They will be more or less on their own for it," says Martine van Bijlert, codirector of the Afghanistan Analysts Network in Kabul. These provincial arbiters sit at "a level where you can dismiss complaints that shouldn't be, or decide whether to receive complaints."
What's riding on these complaints
---