India, China shake hands on trade, but border disputes prove intractable
India, China agreed to $16 billion in trade deals this week and set a bilateral trade target of $100 billion. But resolution of longstanding border disputes was kicked down the road.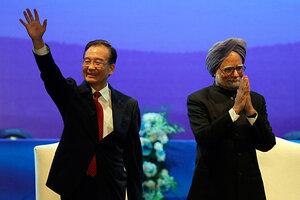 B Mathur/Reuters
India and China sealed $16 billion worth of trade deals during Chinese Premier Wen Jiabao's visit to New Delhi, but many of the sore points between the Asian giants were left to future diplomacy to sort out.
Perhaps most alarming to analysts are the two countries' longstanding border disputes, which have proven intractable and contributed to wider Asian nervousness about China.
While Mr. Wen and Indian Prime Minister Manmohan Singh pledged to resolve such disputes "at an early date," and also agreed to set up an emergency hotline and hold more frequent high-level visits, some analysts are concerned that the continued failure to resolve the border standoff has created an atmosphere of mistrust and military wariness in the region.
"It's 29 years of negotiations on the border with nothing to show because the Chinese have been taking India around the mulberry tree, they commit to something and reinterpret it later," says Brahma Chellaney, a Sino-India expert at the Center for Policy Research, an independent think tank in New Delhi. "The talks are deadlocked now."
---