China's Wen Jiabao bolsters ties to Pakistan
China's Prime Minister Wen Jiabao ended a three-day visit to Pakistan Sunday after inking a string of deals with an ally one Beijing diplomat referred to as 'our Israel.'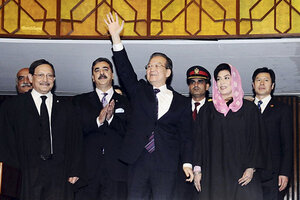 Reuters
Chinese Prime Minister Wen Jiabao wrapped up a three-day visit to Pakistan on Sunday with a warmly received speech to Parliament that pledged closer strategic ties and lauded Pakistan's fight against militancy, underscoring Beijing's commitment to a geostrategic ally a Chinese diplomat recently dubbed "our Israel."
The Chinese delegation had already inked trade agreements between the private and public sectors of both countries worth some $30 billion. The trade deals are expected to bring up to $15 billion of desperately needed foreign investment over the next five years to this nation of 180 million struggling to cope with militancy and poverty. Last year, direct foreign investment to Pakistan stood at a 5-year-low of $2 billion.
Beyond aid and investment, however, Mr. Wen's strong words of support for its "all-weather" ally highlight a different approach to Pakistan to that taken by the West, which many Pakistanis believe has slighted Pakistan in favor of emerging economic powerhouse India.
---
Follow Stories Like This
Get the Monitor stories you care about delivered to your inbox.