Lobsang Sangay is sworn in as new prime minister of Tibetan exiles
Harvard-trained academic Lobsang Sangay vows to fight Chinese 'colonialism' at his swearing-in as the new political head of Tibetan exiles. But will he have clout?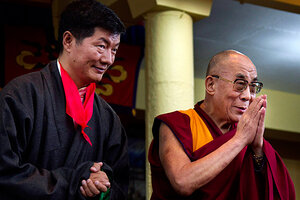 Ashwini Bhatia/AP
Today, Tibetan exiles swore in their new head of government, Prime Minister Lobsang Sangay, who will take over official political leadership duties for the half-century-long Free Tibet movement.
The Harvard University-trained law fellow is the first secular man to hold a higher political authority than the Dalai Lama, and his inauguration highlights what the Dalai Lama has indicated he hopes will represent the new democratic face of the Tibetan exiles.
For years the Dalai Lama has indicated he wanted Tibetans to elect a political leader and to reduce his role to merely that of a religious head, but it wasn't until March that elections were held.
"The vision of passing on my political power onto the democratically elected prime minister has been fulfilled. I feel that the devolution of power onto Lobsang Sangay is appropriate, and I have full confidence he will carry out the responsibilities and continue to uphold strong democratic ideas," the Dalai Lama said of the new appointment.
Though much of the exile community also appears confident Dr. Sangay can fill the big political boots of the Dalai Lama, he still faces a host of challenges.
"This new man could make a significant difference if he is able to improve the education system in exile and rejuvenate the administration there," says Robert Barnett, director of Modern Tibetan Studies at Columbia University. He adds that though Sangay's skills for this position are a bit up in the air, they may emerge.
---