Afghan policeman attacks colleagues, undermining cornerstone of US strategy
The officer was part of the Afghan Local Police, a key component of the US and NATO goal of readying Afghan forces to take over security.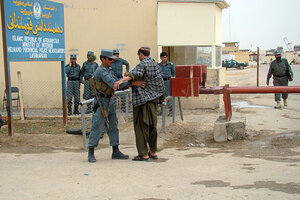 Abdul Khaleq/AP
An Afghan police officer in Paktika province killed nine of his colleagues in their sleep today in an attack police are blaming on the Taliban. The shooter managed to escape the scene in a pick-up truck and take all his colleagues' weapons with him.
The incident is the latest in a series of blows to the credibility of Afghan forces, which US and NATO forces are preparing to take over Afghan security ahead of a scheduled 2014 withdrawal. The growing number of killings in which an Afghan soldier or policeman turns his weapon on NATO or Afghan security forces has intensified doubts about the reliability of the Afghan security forces and sparked criticism of the recruitment process.
Waheed Mujhda, an independent analyst in Kabul, says that one of the main problems may stem from the eagerness of the international community and the Afghan government to rapidly expand the size of Afghan security forces, without properly vetting candidates.
"During this process they never pay attention to the background of everyone who comes to the Afghan forces," he says.
New measures to protect soldiers
The police involved in today's killing were members of the Afghan Local Police, which is a cornerstone of US strategy here as the Pentagon prepares to wind down combat operations as soon as late next year. ALP are recruited to police their own neighborhoods and receive training from US Special Forces.
---