Bush-Putin summit in Sochi signals new tone.
A deal on missile defense could be part of a 'strategic framework' the presidents plan to sign Sunday, legacies in mind.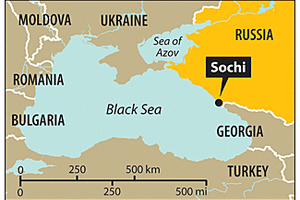 Rich Clabaugh
An extraordinary summit this weekend, initiated by Russian President Vladimir Putin and agreed to at the last minute by President Bush, is widely seen as an effort to change the harsh tone that has characterized US-Russia relations in recent years.
Mr. Putin is coming off a minor triumph at this week's NATO conference, where Russian objections were key to deferring the US-backed membership bids of Ukraine and Georgia. Putin may be hoping to pull off a hat trick by persuading Mr. Bush to shelve a contentious scheme to install US missile defense components in Poland and the Czech Republic, or perhaps revive stalled arms-control talks.
But some experts say a compromise on the long-running missile defense dispute could also take shape as both presidents seek to shape their legacies in the final days of their eight-year terms.
"The differences between Moscow and Washington are totally bridgeable," says Viktor Kremeniuk, deputy director of the official Institute of USA-Canada Studies in Moscow. "Both countries face the same enemy, which is the threat of terrorist missile launches. We need to find a formula to work together, and that necessitates some form of joint control or close consultation. We have not gone far enough to create such a quasi-partnership, but the presidents might start that process now."
---