Pro-European tilt in Serbian vote
The Democratic Party received 39 percent of the vote to Radicals' 29 percent. But coalition-building maneuvers mean the shape of the next government is still unclear.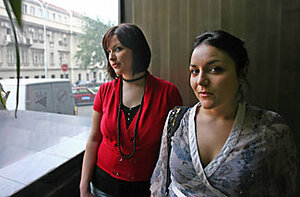 Ann Tornkvist
Marijana Mihailovic and Saska Raseta have been best friends since the day they met. They share a one-bedroom apartment in a grim block on the outskirts of Belgrade, working full-time to fund their studies at the Belgrade College of Tourism. They share their food, their friends, even their clothes. Young, bright and ambitious, they speak perfect English and hope to work abroad one day.
But there's one thing that Ms. Mihailovic and Ms. Raseta, who are both 22, don't agree on. They have very different visions for the future of Serbia. Yesterday, Mihailovic voted for Boris Tadic's pro-European Democratic Party (DS). Raseta voted for the ultra-nationalist Radical Party. Their respective choices reflect a fault-line that runs through the heart of Serbian society.
At first glance, the results of yesterday's election looked like a conclusive win for the pro-European camp. Tadic's DS Party received 39 percent of the vote to the Radicals' 29 percent, defying the predictions of pollsters and pundits alike. But much of Mr. Tadic's vote appears to have come at the expense of other pro-European parties. Combining the figures from all the nationalist parties, the result is far less conclusive, showing that the nationalist bloc attracted almost half of the votes cast. That means that the battle between pro-European forces and nationalists for Serbia's future is not over yet, with an intense period of coalition-building expected to follow.
Tomislav Nikolic immediately claimed that his Radicals could attract the support of smaller parties to form a government, prompting fears that the period of coalition-building could be every bit as bitter as the pre-election campaign.
---