Russia's plan to avert second cold war
Standoffs over Georgia and a US missile-defense shield stem from one main irritant: Moscow had no hand in designing global security after the USSR collapsed. Medvedev wants to fix that.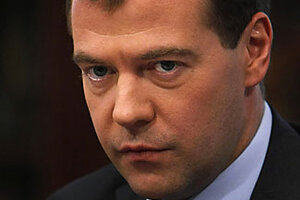 Dmitry Astakhov/ap
The dark clouds gathering this summer between Moscow and the West have some experts concerned that the world is on the brink of a new cold war. They point to two flash points. One, the ex-Soviet state of Georgia, is largely driven by Moscow's fear of NATO expanding into its traditional sphere of influence. The other is a proposed US missile-defense shield in Eastern Europe. Russia has promised to retaliate – possibly by basing nuclear-capable bombers in Cuba, according to an unofficial news report quoting unnamed top security officials last week.
"It's no longer just rhetoric, it could start to get quite serious," says Dmitri Trenin, an analyst with the Carnegie Center in Moscow. "The message being put out by Moscow is that the West needs to realize that it's approaching a line, beyond which there could be a real showdown."
But Russian President Dmitri Medvedev, has a plan to arrest the slide by creating an alternative to NATO. Though it has yet to gain traction in the West, Mr. Medvedev's plan, announced in Berlin last month, has been much discussed in the Russian media. In short, it would redesign Europe's security system from the bottom up – but this time, Russian would participate as an equal partner and founder of the new bloc. Russian experts are dubbing the concept "EATO" – Euro-Atlantic Treaty Organization – a big-tent security grouping that would replace NATO – the North Atlantic Treaty Organization – and say it is likely to become the signature foreign policy theme of Medvedev's presidency. It would also, say supporters, remove the main irritant in Russia's relations with the West today.
---