In shift, Kremlin reopens cases of Russian reporters' unsolved murders
The announcement came during the Kremlin's meeting today with the Committee to Protect Journalists. Rights groups have been pressing to address major unsolved murders, such as the slaying of Anna Politkovskaya.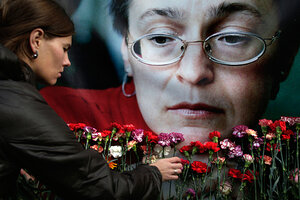 Pavel Golovkin/AP/File
The Kremlin said this week it is reopening several unsolved murders of journalists, showing a change in tone from years of official inactivity and stymied justice. But some human rights activists are skeptical that a genuine shift is under way, evidenced in part by the lack of progress in determining who killed internationally acclaimed reporter Anna Politkovskaya in 2006.
Top Moscow authorities met Thursday with a visiting delegation from the New York-based Committee to Protect Journalists and pledged to aggressively pursue investigations into 19 unsolved, work-related murders of Russian journalists since Vladimir Putin came to power a decade ago, including at least five cases that had previously been closed or suspended.
"This is the third time we've come to Moscow to urge authorities to pursue journalist killings effectively, and this is the first time we've been granted an extensive audience with the authorities who are directly responsible for investigating these cases," says Nina Ognianova, the group's Europe coordinator.
Kremlin targets killers
She was part of the delegation that met with Alexander Bastrykin, head of a new and powerful Kremlin-run Investigative Committee that was set up three years ago to bypass regular prosecutors but was recently beefed-up by President Dmitry Medvedev.
---