After election 2010, Europe asks why US no longer smitten with Obama
In the wake of Republican gains in Tuesday's midterm elections, Europeans are wondering why a president who captivated their hearts was dealt such a blow.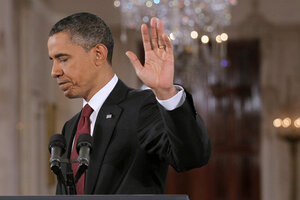 Charles Dharapak/AP
In much of Europe, where President Obama remains quite popular, the saving grace after Tuesday's vote is that at least the president and his Democratic allies retained the US Senate.
Beyond that, however, this year's midterm election that delivered a stinging rebuke to the Obama agenda has many Europeans at a loss over why Americans are not as smitten with Mr. Obama, who is seen here as cool, articulate, and almost European, as they are.
In Berlin, Paris, and London, the tea party movement, which helped hand the US House to the Republicans, has many worried the country itself may be captive to the aggressive conservatism that Obama's election was supposed to end.
"The Europeans and the French are sad to see what could be the rise of a weakened America, a unilateralist America, the America of George W. Bush that they were so allergic to," says Dominique Moisi, a founder and senior adviser at the French Institute for International Relations. "So there is concern and sadness about the election outcome."
Indeed, the post-US election tone on the Continent is a long way from the ebullience that greeted Obama's victory two years ago, when he was heralded as "president of the world." Now, there's concern in Europe that the popular president may become a one-term office-holder.
---