Russia's $2 billion project to rival America's GPS suffers setback
On Sunday, three satellites meant to complete the highly touted Glonass system crashed in the Pacific after veering off course, reportedly due to a programming error.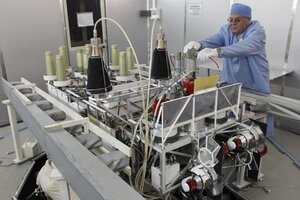 Ilya Naymushin/Reuters
Russia's efforts to launch a full-fledged alternative to America's Global Positioning System (GPS) suffered a major setback on Sunday, when three satellites meant to complete the system crashed into the Pacific Ocean.
A programming error reportedly caused the Russian Proton-M booster rocket carrying the three Glonass-M units to veer off course following a successful blastoff from Baikonur space center in Kazakhstan. That led controllers to abort the mission and splash the rocket down about 1,000 miles northwest of Hawaii.
Russian space experts say they're taking the estimated $500 million loss "philosophically," but admit that the blow to Russian hopes and national prestige is a painful one.
Medvedev asks for names of those responsible
Last week, Russian President Dmitry Medvedev hailed the imminent completion of the Glonass project as a major step in Russia's efforts to modernize its economic base, join the ranks of advanced space-faring nations, and end the widespread perception that Russia's former Soviet space program has degenerated into little more than a "rocket taxi" that ferries supplies and tourists into orbit.
---