Spain's ETA promises cease-fire but many don't believe them
Spain's Basque separatist ETA has promised a cease-fire. But it comes with conditions and the government appears to have rejected the offer.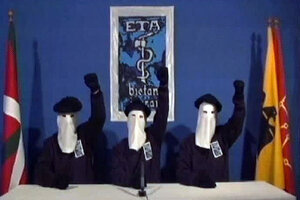 Associated Press Television Network/AP
Spain's ETA, a separatist group that has fought a low-intensity insurgency for Basque independence for over 50 years promised a cease-fire earlier today that was widely viewed in Spain as a tactical step, not a permanent renunciation of violence.
"This is more of a reversible truce," says Ramon Zallo, a former ETA militant from the 1960s who is now a communications professor at Basque Country University. "ETA is not defeated. It's militarily hurt and politically tired, but to expect ETA to just surrender and to ask for forgiveness is just unrealistic."
Three hooded militants read a statement that promised peace, while appearing to make it conditional on allowing a Basque independence vote, something the government and a majority of Spaniards oppose.
"ETA insists on putting a price on peace," said Spanish Vice President and Interior Minister Alfredo Pérez Rubalcaba. "The only statement we want to read is one in which ETA declares an irreversible and definitive end [to violence], and it's clear that it hasn't done what we expected."
---