Among France's Tunisians, elation and worry
France hosts Tunisia's largest expatriate community. Having long lived in political silence, Tunisians here are glued to Arabic TV and debating if greater democracy or regional strife will unfold.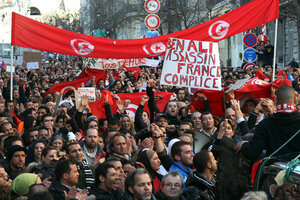 Claude Paris/AP
In France, Tunisia's largest expatriate community is experiencing a new reality: elation. Having long lived in political silence, fearing for family back home, Tunisians here are glued to Arabic TV and Facebook, phoning home, and sharing poetry and music. But they're dogged by doubt over whether the revolution marks a fall of the Berlin Wall for the Arab world, or the start of regional strife.
To prominent Tunisians like Moncef Cheikh-Rouhou, the word "democracy" has returned to the Middle East lexicon not as a luxury reserved for prosperous nations, but as simple human desire. To him, it is a "Berlin Wall" moment.
"Democracy isn't only a consequence of economic growth, or we would see a stronger push in China," says Mr. Cheikh-Rouhou, who has been mentioned as a possible finance minister in a new Tunisian government. "More importantly, our revolution counters notions in Washington that democracy can't come from Arab grassroots but must come from the insertion of foreign troops using force against tyrannical leaders."
Mr. Cheikh-Rouhou has lived in exile here since leaving Tunis in the dark of night after a clash with ousted president Zine El Abidine Ben Ali. He helped found the Arab Circle of Economists and will chair a special Tunisia meeting at the Davos economic forum tomorrow on corruption's effect on development. He charges that Mr. Ben Ali, who now has an international warrant out for his arrest, owes $5 billion to his country.
---