Alberto Contador returns to cycling circuit, but showdown looms over doping claims
Spain's cycling federation cleared Alberto Contador of doping charges, but international officials seek a fresh review. At issue are Contador's intent and Spain's impartiality.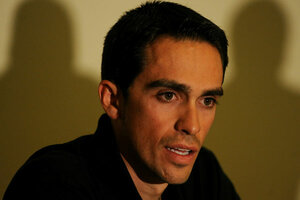 FRANCISCO LEONG/AFP/Newscom
A day after the Spanish cycling federation unexpectedly cleared him of doping allegations, triggering a wave of global criticism, an ecstatic Alberto Contador returned to competitive racing Thursday.
"This is an authentic victory. It's a huge satisfaction for me and for the team," said Mr. Contador in Portugal ahead of the Tour of the Algarve.
But that satisfaction may be short-lived. If the International Cycling Union (UCI) and the World Anti-Doping Agency (WADA) are not satisfied with the Spanish interpretation of international doping rules, they have up to two months to request a fresh review from the Court of Arbitration for Sport (CAS) in Lausanne, Switzerland, with whom the final decision would then rest.
At stake for Mr. Contador is his 2010 Tour de France victory and the ability to try for a fourth title this year. But for the international sports community, the implications could be far greater if his case is taken up again.
At issue is a potentially landmark decision in a broader decades-old debate: whether the burden of proof in doping cases should lie with athletes or with the agencies and officials tasked with keeping sports free of illegal drugs.
---