Defiant Mladic sets stage for contentious war crimes trial
Former Bosnian Serb Gen. Ratko Mladic refused to enter a plea on charges of genocide and crimes against humanity today in The Hague, and was given until July 4 to appoint a legal team.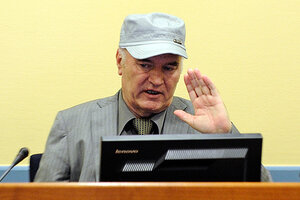 Martin Meissner/AP
"Good morning, Mr. Mladic," intoned senior tribunal judge Alphons Orie just after 10 a.m. today at The Hague, as he turned to arraign the most senior military figure accused of destruction and murder in the Balkans in the 1990s.
Ratko Mladic, seated in a gray suit in the tribunal dock eight days after his arrest at a Serbian farmhouse, listened with stoic defiance as Mr. Orie stated in case number IT092-I, "You, Ratko Mladic, are charged with genocide, crimes against humanity" for actions between October 1991 and Nov. 30, 1995. The dramatic reading of charges is the culmination of more than a hundred smaller cases over 15 years.
The accused general showed no feebleness or lack of comprehension, calling them "obnoxious charges … monstrous words … I have never heard of any such thing."
Orie took Mladic's response as a nonplea of guilty or not guilty, as expected. A new date, July 4, is set for a formal plea in accord with tribunal procedures that allow the accused additional time to examine charges and appoint his legal team.
Mladic's blunt denial of charges, as well as his further exchanges with the judge, appear to set up a closely contested trial of signal importance for international justice, and for Balkan memory and historical accounting, as the Serbian nation sets its sights on joining the European Union.
---