Norway terror attack exposes deeper anger over immigration
The admitted attacker behind last week's bombing and shooting spree derided immigration and multiculturalism. Experts say his beliefs are surprisingly common in Norway.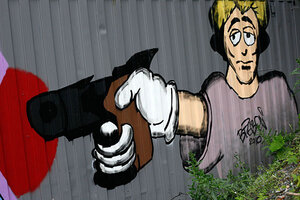 Wolfgang Rattay/Reuters
Last week's Oslo terrorist attacks are raising delicate questions of immigration and integration here after the admitted attacker cited anti-Muslim views as motivating the assaults.
A country of less than 5 million people, Norway has seen its once homogeneous population change in recent years with new arrivals from Africa and the Middle East. This transformation, in part, drove Anders Behring Breivik, charged with Friday's car bombing and shooting spree that killed at least 76 people in the span of a few hours.
Now, even as this country still grieves for its victims, many say how Norway responds to the attacks could define immigration policy in the future.
While Mr. Breivik's views, revealed in his 1,500-page tirade against Muslims and multiculturalism, are extreme and his attack reviled by Norwegians of all political leanings, Breivik fed on an undercurrent of prejudice and hatred that exists in some areas of Norwegian society, where being Norwegian is still very much determined by one's fair skin and light hair.
"We have to find out what kind of country Norway is. That's where the struggle is going to be in the coming years," says Thomas Eriksen, a professor of anthropology at the University of Oslo. "And we are going to have to deal with that."
He says many immigrants still face an uphill battle in terms of integration and acceptance from their fellow Norwegians. "They can acquire our civilization but never our culture," he says, offering up a common opinion. "In other words, they won't be 'us' they'll always be the 'other'."
Indeed, experts on immigration and integration point to a growing skepticism across Norway that now surrounds most Muslim immigrants. Though Breivik's thinking is condemned, many of his views aren't new.
---