Will Breivik attack change Norway?
Norway's leaders and the public say they are committed to protecting their vaunted 'open society.' But even though attacker Anders Breivik was Norwegian, the immigration issue could heat up.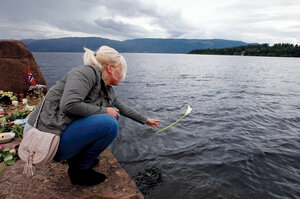 Fabrizio Bensch/Reuters
At about 3:30 p.m. on July 22, a car bomb blew out the windows in government buildings, rattling the offices of Norway's prime minister. Small fires burned inside buildings and injured employees stumbled into the debris-speckled streets of downtown Oslo.
Then, news spread of a shooting on Utoya, an island northwest of the capital. Early reports described a tall, blond man spraying the island with gunfire as hundreds of young campers scattered in terror.
Police scrambled to cope with the attacks, both of which are unprecedented in a country known as one of the world's safest places, and early suspicion turned to jihadists. The media, including this paper, suggested the blast could be the work of Islamic extremists. After all, Norway was involved in Afghanistan and hosts a sizable and growing Muslim community.
What came next turned everyone's best guess on its head and left Norwegians, who boast of their tolerant, open, and peaceful society, in a state of shock. The man admitting to the crimes was no Al Qaeda operative. Oslo resident Anders Behring Breivik is just the opposite.
A strike at the heart of society?
An ethnic Norwegian with an expressed hatred of Islam and Muslim immigrants and an affinity for far-right politics, Mr. Breivik stunned a nation by admitting to twin attacks that killed 77 Norwegians. Likening himself to a modern-day Crusader, Breivik claimed the attacks served as a wake-up call to Norwegians and the ruling Labour Party over his fears of Europe's "Islamization."
---