Africa: from famine to the world's next breadbasket?
Foreign interests buy up cheap agricultural land across Africa to grow tomorrow's food. But will any of it benefit Africans?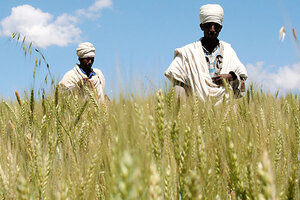 Barry Malone/Reuters
In Western eyes, Africa is a land of hunger – a place of famines and starving children, emaciated limbs, and desperate United Nations feeding campaigns.
Soon, however, the United States and Europe might be forced to change this view. Thanks to a rush of outside investments, Africa is poised to become the world's next breadbasket – a situation prompting sharp debate among many international aid and food agencies.
Over the past year, dozens of private investors and foreign governments, including those of Saudi Arabia, Qatar, South Korea, and China, have snatched up hundreds of thousands of acres of farmland in Africa. Though their goals vary, many involved with the acquisitions say they want to secure farmable land to protect their home countries against what they see as inevitable
future food shortages.
And when it comes to open, arable land – and governments willing to make a deal – Africa is the world leader. Saudi Arabian investors, for instance, have poured hundreds of millions of dollars into farmland in Ethiopia, according to groups like GRAIN, a nonprofit that supports small farmers and has been tracking these international land acquisitions.
---