Predictions 2010: Six ideas that will shape the world
A decade into the new millennium, here are six trends to watch – from Africa's possible emergence as the next breadbasket, to Russia's strange leadership hunt, to the evangelical boom in Latin American pews.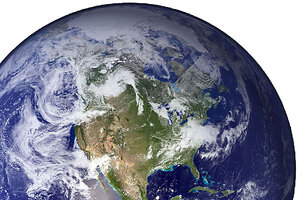 AFP/NASA/Newscom
There are no iPods in this report.
There are also no digital e-readers, no flat-screen televisions, no snowblowers, or lawn mowers that will, we are promised, "revolutionize" some part of American life next year. When we asked experts across the globe to flash forward and imagine the big forces shaping 2010, we found something better: sheer surprise.
Africa, the perennial land of famine, may be the next breadbasket. Europe, where France banned the head scarf in state schools and the Swiss outlawed minarets, will emerge more tolerant of Muslims. Chinese babies will have siblings, and the new Russian political elite will be chosen, "Idol"-style, through a nationwide talent hunt.
If it sounds improbable, consider this: In 1950, Popular Science published an article describing the America of the next century. In a lot of ways, it was pretty off. We do not, as predicted, dissolve brewing hurricanes by setting oil ablaze on the ocean waters beneath them. Nor do we sell our disposable rayon underwear to chemical factories that wish to make candy out of it.
More telling, though, may be how eerily familiar the rest of the vision is. The editors predicted men would use a chemical to wipe beards from their faces (men don't, but some women do precisely this to their legs). They thought women would melt disposable dishes under hot water, instead of washing them (recycling Chinet might come close, and the inflation-adjusted price tag is within $1). And they got it just right with one particular cartoon: A household matriarch shops, over the phone, for items she sees on television.
"The future is not a place," says Patrick Tucker of the World Futurist Society. "It changes every day as we add to it and subtract from it with our actions, which is why it doesn't actually exist. It's a phantom we continue to pursue."
---