'American Idol,' Kremlin-style: the hunt for talented leaders
Russian officials handpick a 'Golden 100' group of young people to shake-up an aging bureaucracy.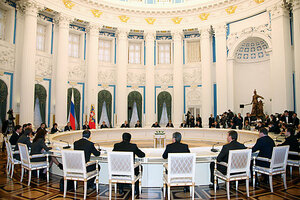 Itar-Tass/Newscom
Call it "American Idol," Kremlin-style. Only this version isn't intended to find the next Carrie Underwood. It's a nationwide talent hunt to identify the next generation of Russian leaders – ones that are modern-minded, uncorrupted, and presumably forward-thinking.
The "Golden 100" initiative is the pet project of Russian President Dmitry Medvedev, who sees it as a way to revivify Russia's tired and torpid bureaucracy. In one sense, it might be the ultimate social engineering project: A government trying to reinvent itself by finding replacement parts for its own political machine.
While many critics dismiss the initiative as a mere gimmick, Mr. Medvedev has invested a lot of prestige in the project and some of tomorrow's leaders may emerge from the anointing process.
"There is a critical shortage of capable, professional managers at all levels in our country," says Yury Kotler, a council member of the ruling party, United Russia, who has been put in charge of the project. "We don't have many years to wait for a changing of the guard, from old-style bureaucrats to new leaders. So our idea is to find people ... who are already out there in the civil service, business, political parties, academia, and other fields. We will put them into accelerated circulation."
---