Japan's robot revolution moves from factory to the home
The world's leader in robotic technology is creating machines that do everything from cooking pancakes to guiding shoppers at malls.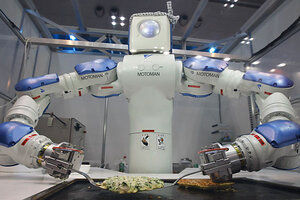 Kim Kyung-hoon/Reuters
It looks a little like C-3PO from the "Stars Wars" movies, minus the gold sheen and the attitude. Robovie-II, a Japanese robot with swinging arms and an inquisitive demeanor, has strolled the halls of an Osaka mall to help customers shop.
It could detect people who were walking aimlessly and steer them toward their destination. A more recent version of the robot has helped the
elderly buy goods at a supermarket.
The arrival of the android shopping assistant, even though still experimental, is a reminder that the robot revolution in Japan is increasingly moving from the factory floor to the home, the hospital, the local restaurant, and even the rice paddy.
Long a leader in industrial robotics – Japan is home to almost half the world's 800,000 factory robots – the country is now pioneering uses of automated help for the consumer. Along the way, it is redefining the relationship between man and machine. Already, the country has robots that clean, pour drinks, function as security guards, play pool, dance, care for the elderly, act as pets and companions, serve sushi – everything but write this story (a-s f-a-r a-s I k-n-o-w).
"We see robots as media just like a mobile phone," says Norihiro Hagita, director at ATR Intelligent Robotics and Communication Laboratories in Kyoto. "And just like a mobile phone, robots would be indispensable in future."
Several factors are driving Japan's thrust into consumer robotics. One is the country's savvy with technology. But a bigger reason is demographics. As the country's population ages, robots are considered one solution to a shrinking workforce.
---