Norway attacks: Was Breivik a Christian terrorist?
(Read article summary)
Anders Behring Breivik's Norway attacks have instigated a discussion about a double standard in the way people react to 'Christian terrorists' vs. 'Muslim terrorists.'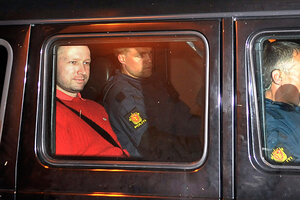 Jon-Are Berg-Jacobsen/Aftenposten/AP
In the wake of mass murder in Norway by a young man who hearkened to the Christian crusades and calls himself a cultural Christian – many ordinary people of faith were horrified to find Anders Behring Breivik described as a "Christian terrorist."
Whether that title applies to Mr. Breivik is a suddenly awkward issue – partly because it raises the question about a fast and loose use of "Muslim" or "Islamic" to name those who commit violence in the name of their faith.
While European media seem disinterested in Breivik's Christian self-definition or the terminology used to describe him, in the US and Muslim media worlds it is a sprawling debate. It was hyped by Bill O'Reilly on Fox News who found it an "outrage" to call Breivik a Christian terrorist; Mr. O'Reilly responded to some reports that early on took Breivik's statements about his Christianity at face value.
But the Fox talk show host and some others have denied that Muslims who commit violence should be treated by the same rules.
Breivik, who systematically shot more than 60 fellow Norwegians with "a smile on his face," as survivors from Utoya island described, says he is "100 percent Christian." His use of the term is not based on faith but out of collective identification with a notion of "Christian Europe."
---