Explosion damages Norwegian government building in Oslo
An explosion hit the headquarters building of the Norwegian government in Oslo on Friday, causing several injuries.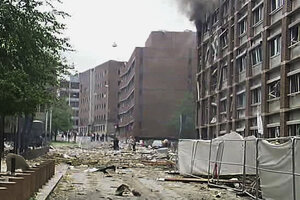 TV2 Norway/AP
A loud explosion shattered windows Friday at the government headquarters in Oslo which includes the prime minister's office, injuring several people.
Prime Minister Jens Stoltenberg is safe, government spokeswoman Camilla Ryste told The Associated Press. There was no immediate word on the cause of the blast
Witness Ole Tommy Pedersen was standing at a bus stop about 100 meters (yards) from the high-rise at around 3:30 p.m. (1330 GMT) when he saw the blast shatter almost all windows of the 20-floor highrise. He said a cloud of smoke is billowing from the bottom floors.
"I saw three or four injured people being carried out of the building a few minutes later," Pedersen told The Associated Press.
Video shown by Norwegian broadcaster NRK showed most of the windows of the building had been blown out. The bottom floor appeared to be completely gutted. Shattered glass and debris littered a square in front of the building.
Nearby offices were evacuated including those housing some of Norway's leading newspapers and news agency NTB. Some of them were also damaged.
An AP reporter who was in the NTB office said the building shook from the blast and all employees evacuated the building as the alarm went off. Down at the street he saw one person with a bleeding leg being led away from the area.
---