'Girl Talk' youth program counters school bullying with mentoring
As a teen Haley Kilpatrick felt the sting of school bullying herself. She started the youth program 'Girl Talk' to stand up to it.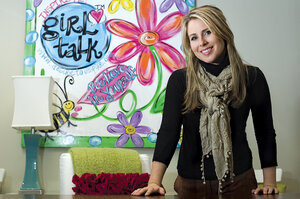 Joanne Ciccarello/Staff
Once a week, the middle-schoolers at the private Atlanta Girls School go to a unique homeroom session where chatter trumps study.
The get-together is Girl Talk, part of a nonprofit movement where teens besieged daily by the trappings of consumer culture, high-tech gossip gizmos, and "mean girl" mentalities talk to older girls about how to get beyond what seems to them to be a life-and-death drama buzzing around them.
"We mainly talk about cliques and how to deal with mean people," says Jessica Johnson, who joined the Girl Talk program as a middle-schooler and is now one of the leaders at the school. "It's so much better that we talk to them because we're people they can relate to, and they say, 'Oh, you're not centuries older than me; you understand cyberbullying and Facebook.' "
The chat session at the school is one incarnation of a national peer-to-peer mentoring program led by a 23-year-old from Atlanta, Haley Kilpatrick. She has turned a high school revelation and $13,000 of her own cash into a groundbreaking nonprofit group that now reaches 34,000 girls in 43 states and four countries.
The program aims to foster leadership qualities among high school girls at the same time they wield a positive influence on younger, middle school girls.
News reports of the sometimes tragic outcomes of cyberbullying have reinforced the need for answers. Some girls (and boys) live a lonely and unhappy existence in middle school, between the safety of childhood and the freedom of adulthood.
---
Follow Stories Like This
Get the Monitor stories you care about delivered to your inbox.