In Pakistan, Asher Hasan brings innovation to health-care cost, at $1.80 per month
Pakistan's low-income families can buy inexpensive health-care insurance through his Nava Jeevan (New Life) program.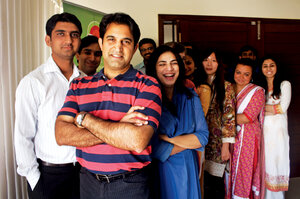 Zahra Malkani/Special to the Christian Science Monitor
Wilayat Shah, a security guard at the luxury Avari Towers Hotel in Karachi, Pakistan, was rushed to a hospital last December after experiencing headaches and losing consciousness at work.
Unlike the wealthy patrons of the hotel he guarded, the father of four wouldn't ordinarily have had access to top-notch medical treatment.
But thanks to a health-care program run by the nonprofit Naya Jeevan (New Life), Mr. Shah, who earns just $150 a month, paid nothing for the MRI scans and treatment he received, worth some $1,400. He now has returned to work.
Shah is one of some 13,000 low-income workers in Pakistan signed on to the Naya Jeevan program. It was founded in 2007 by surgeon-turned-social entrepreneur Asher Hasan and began operating in Pakistan last summer.
"In Pakistan, privileged people can afford their care," Dr. Hasan explains. "The poor, who work alongside the rich, were just excluded from the system."
Hasan left a successful career in the United States to return to Pakistan, where he had spent his formative years, on a mission to provide affordable health care to low-income workers.
He lived a "clichéd life," he says, with a résumé that includes an MBA from New York University, research work at Harvard Medical School, and a stint as a senior executive at a California-based pharmaceutical company.
"I knew there was much more I could be doing in Pakistan," Hasan says.
---