'Buy local' program aims to boost value of aid to Haiti
(Read article summary)
A 'buy local' program for aid groups working in Haiti could be an engine of economic growth.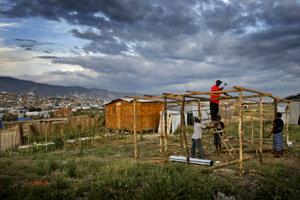 Carl Juste/MCT/Newscom/File
One week after the devastating quake that struck Haiti in January 2010, journalist Mark Danner wrote a New York Times op-ed that warned the outpouring of international sympathy and support, although remarkable, would buoy unrealistic expectations about the prospects for rebuilding "a new Haiti."
Danner had covered the country's tumultuous transition to democracy in the 1980s and 1990s. He knew that foreign interventions have a long history of mixed results and consequences that outsiders often overlook.
"Like the ruined bridges strewn across the countryside – one of the few traces of the [US] Marines and their occupation nearly a century ago – these attentions tend to begin in evangelical zeal and to leave little lasting behind," he wrote.
How little? Until now, it has been hard to quantify. But a study of development programs in fragile countries – conducted by Peace Dividend Trust (PDT) – found that, on average, international agencies spend less than 5 percent of the money donated for post-disaster and post-conflict rebuilding programs in country, preferring instead to buy supplies from foreign companies.
And that cuts out a lot of opportunity for growth within the country; growth that could build an economic infrastructure that lasts after the aid organizations go home.
---