High schoolers use their tech skills to build a better world
(Read article summary)
Griffin Latulippe and friends have started a company that will build two devices to help the disabled.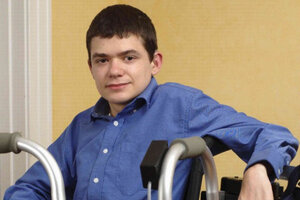 Courtesy of Dowser.org
Most 17 year-olds are focused on hanging out with friends, sports, getting into college, or their summer vacation plans.
Then there are those exceptional ones who can't wait until adulthood to get their ideas off the ground. Ashoka's Youth Venture program has just announced the winners of its nation-wide Technology for a Better World Campaign, which supports teams of young people age 13 to 18 who fall into the latter category and work to tackle social issues with technology.
The winners receive support for their project through mentorships, access to seed funding and fundraising tools, and interactions with the Youth Venture's network of partners and more than 4,000 Venture Teams worldwide.
One of Ashoka's campaign winners is Griffin Latulippe, 17. Along with a few of his high-school colleagues, Latulippe co-founded InvenTech Enterprises, a company that is set to bring two assistive technology devices for disabled people to market.
Inspired by his own experiences living with muscular dystrophy, Griffin began imagining how wheelchairs and walkers could be improved. The company's prototypes for a wheelchair that provides easier access to a rider's backpack, and an adjustable walker, are now being finalized.
Dowser: How did you come up with these assistive technology devices?
Griffin Latulippe: Along with four other high school students in the Junior Engineering Technical Society, I entered into the National Design Challenge. Our goal was to create a device to help disabled people in the workplace. We came up with the wheelchair first. It has an arm that swings around so you can easily grab things from the backpack most wheelchair users have to carry their things. Our interest in disabled people's needs grew, and in the second year, we created a walker for going up and down stairs, with front legs that expand and retract.
---