'Stove Man' videos aim to light a fire
(Read article summary)
The online series takes viewers along to see how a large portion of the world must gather wood for cooking food. Simple cook stoves can cut carbon emissions and save trees and money.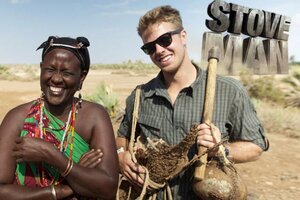 Courtesy of The Paradigm Project
Identify a simple change. Then see if you can sell it 5 million times to make a big difference in people's lives.
That's the big idea behind The Stove Project, which aims to replace cooking on open fires across the developing world with simple, sturdy wood stoves. The benefits: a huge reduction in the amount of firewood burned, saving money for the families and time spent on collecting firewood; fewer trees cut down; a 40 percent to 60 percent reduction in smoke in the air; and a lower risk of burns and smoke inhalation than from tending an open fire.
To put faces and places in front of viewers, The Paradigm Project (originator of The Stove Project) has created "Stove Man," a web video series that highlights the travels of Greg Spencer and Austin Mann as they begin a quest to bring 5 million stoves to families in developing countries by 2020. In the first episode, just released, they visit northern Kenya to see firsthand how the Gabbra women collect firewood for cooking on open fires.
How big is the problem? An estimated 3 billion people worldwide cook their meals over open fires. A similar number live on $2 a day or less and spend a large portion of that income on firewood.
---