In Brazil, more than a cookstove
(Read article summary)
Families in poor rural areas of Brazil cook on woodstoves. A local nonprofit offers a better design, letting families enjoy cleaner, healthier, more efficient cooking – while burning less carbon.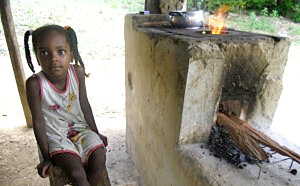 Courtesy of Mariela Garcia/Global Citizen Year
It's not exactly a Kenmore, but it provides just as much as any brand name could to those who receive it. To qualify to be a part of the project, the family must already be cooking with wood and prove their commitment to using the stove by providing 45 Reais ($28) worth of material to build the stove's base. Instituto Perene provides the rest.
Instituto Perene (Perene Institute) is a nonprofit based in Brazil that has been building energy-efficient, wood-fuel stoves in the interior of Bahia [State] for two years. It began construction in the region of Maragogipe and in recent months it has expanded to the nearby Santo Amaro da Purificação and São Felipe. It is founded by Guilherme and Renata Valladares, a husband-and-wife who form an incredibly efficient and balanced team that needed an extra hand on the field.
Of my numerous tasks with the project, the most important has been running Kitchen Performance Tests (KTPs) with different community agents. We weigh wood consumption for five days in an average of 7-10 houses in a community. The test is run twice, before (with their old wood "stove") and after the installation of the improvised stove. The objective of the KPT is to prove a reduction in wood consumption, a lessening of deforestation, and a production of carbon credits.
---