Five little-known vegetables that could help end hunger
(Read article summary)
Native vegetables such as guar, Dogon shallot, and celosia could play an important role in feeding Africa.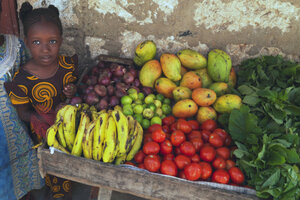 Keith Levit / Design Pics/Newscom/File
No single food can put an end to hunger. But worldwide there are many different fruits and vegetables that are helping to improve nutrition and diets, while increasing incomes and improving livelihoods.
Today, Nourishing the Planet introduces a new series featuring the four vegetables – and one fruit that acts like a vegetable – that you have likely never heard of that are helping to alleviate hunger and poverty:
1. Guar: Like other legumes, guar's (Cyamopsis tetragonoloba) roots have nitrogen-fixing bacteria, which improve the quality of the soil and increase the yield of subsequent crops. In addition to being an organic green manure, the guar seed is a valuable source of vegetable protein for humans and cattle. The seeds contain a thickening agent that can be used to strengthen paper, as well as improve the texture of foods such as ice cream and salad dressing.
Best way to eat it: Guar can be cooked in water until tender and sautéed with mustard oil and other seasonings, garnished with coriander and served hot as a flavorful entre or side.
Guar in Action: The organization Practical Action is encouraging farmers in the semi-arid Zambezi valley of northern Zimbabwe to grow guar to improve nutrition and livelihoods. The project has provided small-scale farmers with some of the inputs they need to cultivate the crop, as well as helping them develop a sound market system to reap benefits from the harvest.
---