Five innovations that boost soil fertility
(Read article summary)
Farmers and scientists are going beyond the massive use of chemical fertilizers to find innovative methods to improve soils and yields.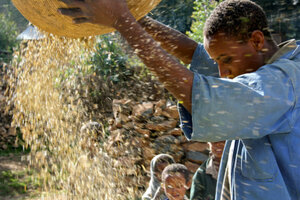 Barry Malone/Reuters/File
Crops need air, sun, water, and soil to thrive. When it comes to soil, however, quality usually trumps quantity. Rich and fertile land boasts a healthy mixture of phosphorous, potassium, and nitrogen, along with water, air, and soil micro-organisms that break down organic matter.
But what happens when these elemental building blocks are disrupted? The Green Revolution of the mid-20th century implemented a variety of practices, including the widespread use of pesticides and fertilizers. Yet, improperly applying the Green Revolution's principles can sometimes do more harm than good.
Overfertilizing and destructive land use practices, including deforestation, can deplete vital nutrients in soil, and no amount of inorganic fertilizer can replace fundamental topsoil. In addition, higher annual temperatures, more extreme weather events and persistent droughts, and increasing population are also exhausting the land. These conditions are creating a cycle of soil degeneration which is stunting agricultural yields and presenting farmers with a new crop of concerns.
Today, Nourishing the Planet provides five methods that farmers and scientists are using to combat rising soil infertility.
1. Cover Cropping / Green Manure: In our State of the World 2011 report, agroecologist and author Roland Bunch defines cover crops / green manure as "any plant, whether a tree, bush, or vine, that is used by a farmer to … improve soil fertility or control weeds." In practice, cover crops are planted alongside or interspersed with other crops to cut soil-eroding wind, prevent overexposure to the sun, and stimulate a healthy soil system. Just as farmers will turn to manure to bolster the soil, they can also clip and spread cover crops' leaves as organic green manure.
---