Five reasons to serve others
(Read article summary)
When you serve, you discover that often the most important things you have to offer are not things at all, says the founder of Servicespace.org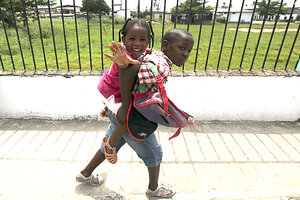 Amr Abdallah Dalsh/Reuters
At the height of the dot-com boom in 1999, a few tech-savvy friends and I walked into a homeless shelter to give without any strings attached. Our motivation? We just wanted to serve, and quickly discovered that such a practice of selfless giving is something that we all have access to, no matter who we are or what we do.
Our trip to the homeless shelter led to us building a website for them at no charge. That experiment in giving blossomed into an organization called ServiceSpace, which went on to develop and gift websites to thousands of small nonprofits.
But the ripples didn't stop there. ServiceSpace has now evolved into a remarkable incubator for dozens of projects, including an online good news portal, "Smile Cards," that spread kindness, and a gift-economy restaurant in Berkeley and rickshaw in India – all touching millions of people.
It's not just what we do that matters, but the inner impetus behind our action that really counts.
While the external impact of these projects is tremendous, what is most striking is the fact that ServiceSpace doesn't fund-raise, has no staff, and remains 100 percent volunteer-run. Everyone involved is driven simply by the volition to grow in service.
In a world dominated by financial incentives that appeal to a consumption mindset, ServiceSpace is a counterculture invitation to engage in small acts of generosity, continually shifting towards a mindset of inspired contribution.
It's a beautiful fact that in practicing kindness, we can't help but deepen our understanding of how inner and outer change are fundamentally intertwined.
Here are five reasons to serve that we've discovered through our own journey.
1. Serve to discover abundance: the radical shift from 'me' to 'we.'
---