Amid peace talks, an Israeli faction balks
Yisrael Beiteinu left Prime Minister Ehud Olmert's ruling coalition on Jan. 16.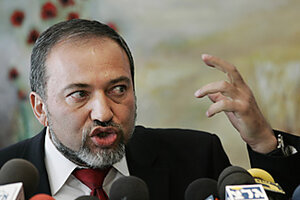 Lefteris Pitarakis/AP
Prime Minister Ehud Olmert's fragile coalition government splintered Wednesday when a hawkish political leader announced his party's withdrawal in protest over recently renewed peace talks with the Palestinians.
The resignation of cabinet minister Avigdor Lieberman – who has described trading land for peace as "a fateful error" – resolves a glaring ideological inconsistency within Mr. Olmert's government over the negotiations.
But it will leave the prime minister with a slimmer parliamentary majority of 67 of 120 seats, exposing Olmert to more threats of being toppled, as peace talks advance toward President Bush's deadline of an accord by year's end.
"This is the beginning of the disintegration of Olmert's coalition," says Yossi Alpher, co-editor of Bitterlemons.org, an online Israeli-Palestinian opinion journal. "Olmert doesn't have the coalition necessary to maintain serious peace negotiations, and it is an open question whether he can conceivably organize an alternative coalition to support the peace process."
The resignation comes on a day when the Israeli army evacuated two hilltop outposts in the West Bank and just two days after Palestinian and Israeli negotiators opened talks on "core" disputes: the status of Jerusalem, a border, the fate of the Jewish settlements in the West Bank, and a settlement for Palestinian refugees.
---