Israel sees upside in hole in Gaza wall
Israeli officials see opportunity to turn Gaza over to Egypt to provide services.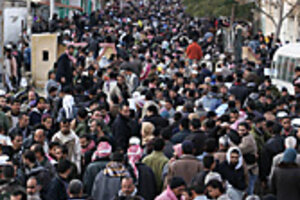 Abid Katib/Getty Images
When Palestinians toppled a metal wall separating the Gaza Strip from Egypt Wednesday, many expected Israeli officials to howl over Egypt allowing Hamas "terrorists" to rearm. After all, a cornerstone of the current peace process was supposed to be isolating Gaza.
But the Israeli response has been surprisingly muted. In fact, some Israeli officials see some advantage in the breach.
Israel, which occupied the Gaza Strip in 1967, has since then clamored, intermittently and often privately, for Egypt to assume greater responsibility for the impoverished coastal strip, or even for Cairo to take control of Gaza. By breaking down the wall and sending Egypt a tidal wave of people pressed to stock up on everyday necessities, Hamas militants – who have been planning the break for weeks, according to local media reports – may have inadvertently brought Israel closer to this goal.
At the same time, the sight of thousands of Palestinians streaming south, keen to stock up on food and fuel, and the international criticism over a building humanitarian crisis calls into question whether the recent push to isolate Hamas as part of a US-sponsored peace process has a realistic chance of success.
---