Iraq election law marks progress, opens political season
Provincial polls are now expected early next year and could bring about a political realignment across Iraq.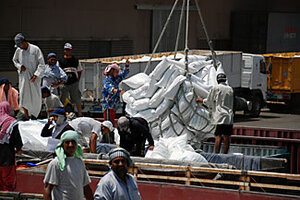 Tom A. Peter/The Christian Science Monitor
Now that Iraq's parliament passed a provincial elections law Wednesday, overcoming months of political gridlock, many politicians and Iraqis are looking ahead to what the elections early next year will mean for Iraq.
This new legislation "showed that on a broader political level, they [Iraqi political leaders] can find solutions to really tough problems," says Ambassador Robert Ford, head of the political section in the US Embassy in Baghdad.
Scheduled to take place by Jan. 31, 2009, the vote has the potential to create major change. One of the central issues stemming from the elections may be the question of who controls political appointments, says Glen Rangwala, a lecturer in Middle Eastern politics at Cambridge University in England. As new local leaders take the helm, new questions will arise about who controls everything from the police to exports.
Debate over these issues "will lead to a period of particular instability as different groups within Iraq – national government, local government, mayors – each stake their claim to being the legitimate authority for who should be in charge of the reappointment or the renewal of the positions of government officials," says Dr. Rangwala.
Additionally, the elections will stir debate over the of lack of central services, such as electricity and water. Many suspect that incumbents will have a hard time getting voter support because of an ongoing lack of basic utilities.
---