In Iraq's Diyala Province, US forces anticipate exit
The American military is handing over control of projects in the troubled province ahead of a US-Iraqi security pact that could reduce the US footprint next year.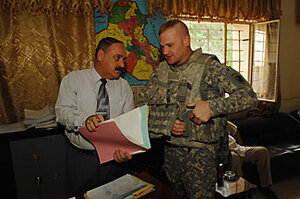 Scott Peterson/Getty Images
The US is actively transferring ownership of Iraq's troubled Diyala Province, using a tough-love approach to force Iraq to take on greater control ahead of any deal that would put limits on the American military next year.
From handing over irrigation projects to cutting funding in favor of a more cumbersome Iraqi payment system, the strategy amounts to the de facto first steps of withdrawal.
"Our big thing is getting Americans to stop doing things and get the Iraqi government to do them," says US Army Staff Sgt. Dave Schlicher, a civil affairs team leader who has worked in the towns along the Iran border for months.
"So eventually, when the government says: 'OK, you Americans are not leaving your [bases] anymore,' they have something," he says. "We're trying to work ourselves out of a job."
Iraqi officials said over the weekend that they expect a US response in the coming days to ongoing negotiations over a new security pact. American and Iraqi officials have been working on a deal that calls for a US pullback to bases by June 2009 and a withdrawal in 2011, but that arrangement faces growing opposition among lawmakers in Baghdad.
But even without a signed pact, US forces are increasingly enabling their counterparts – both in Iraq's military and local government – in anticipation of a dramatically reduced role.
What that means in Diyala is less war-fighting and more nation-building in an area that has seen some of the most brutal battles against Al Qaeda in Iraq (AQI).
---